Hello everyone and welcome back to my blog. Today we are going to start a new segment in our art portion called "in-depth". This segment will dive deep into the knowledge of specific topics, people, works of art, and movements. What better way to start of this segment, than with the iconic Banksy.
Before writing this post I was not very informed about Banksy. I knew a little bit about what he did and who he was, but not enough to write a blog post and form an opinion about this person. So after extensive research, I have come to know about Banksy and why he does what he does. Keep reading below to see what I have learned.
To start off, the reason why I chose Banksy to write about is that I kept seeing and hearing his name everywhere in movies and seeing his artwork online, so I decided that I need to write about this guy.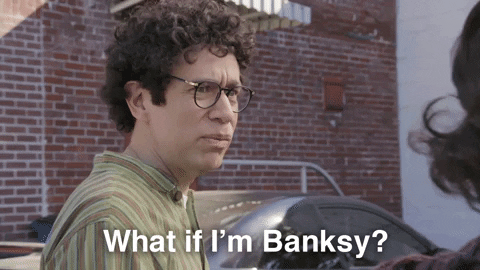 Who art thou Banksy, and what doth thy do?
Banksy. Banksy. Banksy. Such a fun name to say, but who really is Banksy? Is he an artist? Most would voice, "Yes, of course". Is he a genius? Some would say "No not really". Is he an activist? A few would exclaim, "I guess, I don't really know". But who is Banksy, really?
Let's first just start off with a major key pertaining to Banksy as a person, and as an artist. He is pseudo-anonymous, which means he uses a false state of identity. There are no pictures of his face. We don't know for a fact what his real name is. All we know is the information that he has allowed us to know, and the information that people have pieced together.
He began his career in the early 90s in England. He started out as part of a graffiti crew called drybreadz crew. With this group, it is said that while he was behind a trash can hiding from police that he got the idea to use stencils because it was quicker and easier, from the back of a garbage truck. Banksy is now known as an influential, yet controversial street artist. His anonymity plays a part in his street art career because as we all know, graffiti is illegal.
Activism for the Activist!
Banksy's art is representative of his activism. Most would deem Banksy a political activist because of the usage of symbolism, words, and color in his art. He uses these things to bring about or make aware to society, that there needs to be political reform or change regarding certain topics. Odyssey online says " His art is like any other and uncovers the truths of humanity."(theodysseyonline.com) When you look at his artwork, you can't just simply look at it with your eyes. Look at it with your heart and mind and see the message that he is actually trying to get across.
Banksy in Pop Culture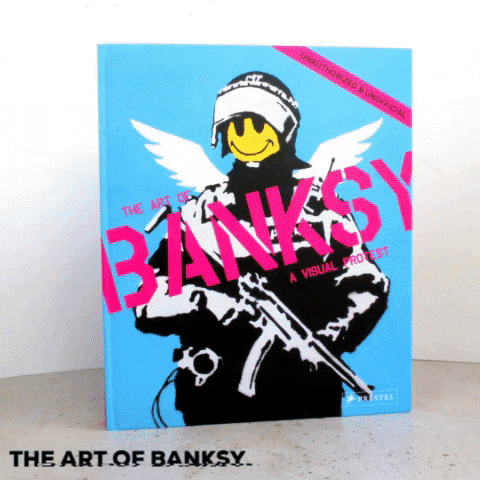 If you have seen Ocean's 8, Spiderman: Into the Spiderverse, and Velvet Buzzsaw, just to name a few, then you have definitely heard the mention of the name Banksy. Banksy is alive and well in today's popular culture. Banksy has almost become a household name, with the anticipation to see what he is going to do next.
Famous and Favorites
This last section will show some of Banksy's Famous pieces of art, and some of my favorite pieces of art.
I will end this post with a quote from the man himself
"There's nothing more dangerous than someone who wants to make the world a better place."
― Banksy
Thanks to all who read this post! I am always grateful for the reads, likes, and comments. Stay tuned for the next post!